Ultrasound scanning – confirming pregnancy at around 100 days
Mobile service
I have been shearing since 2009, when I realised it was getting harder to find a reliable shearer and deciding that if I could do a good job of our own then I could help other breeders in a similar situation. Starting with animals we had sold and then finding clients with small herds fairly locally, I have increased the number I shear each year. Last year saw a trip to Italy to shear 100 alpacas in 8 different locations, this year there are more in Italy plus trips to France and Spain.
We will always endeavour to operate as a two man team, meaning that if you aren't usually "hands-on" with your alpaca we can deal with the physical side of the shearing, but helpers for collecting and clearing fleece would normally be expected.
We will treat your alpacas as we would treat our own.
We will do our best to arrive at the agreed time on the agreed date.
We will call you the day before to ensure that everything is still in order.
We disinfect all equipment between each job to prevent any possibility of cross contamination from farm to farm.
We will try our best to ensure that everyone enjoys the day.
Preparation for Shearing Day
It is important that you and your alpacas are prepared for us as this will lead to the day going as smoothly as possible. So …
Please clear your paddock about a week before shearing to avoid twigs, burrs etc becoming entangled in the fleece. If you can keep your alpacas from rolling in their dust bowls this would be appreciated as the dust, sand etc really wrecks the blades.
Unfortunately we do not control the weather. If it looks like rain, where possible, try to keep your alpacas shut in a dry, clean place as it is difficult and not very pleasant to shear a wet alpaca. In addition, if the fleece is wet, it needs to be dried before storage or the fleece will begin to deteriorate immediately.
All that we need is a large flat space on the floor. It should be at least 4 metres long and 2 wide and shaded in hot weather.
If outside, we can use posts or improvise; we have used our vehicles, a tractor and various agricultural implements.
This is an ideal; we have shorn on some very steep slopes and in some very awkward places, so we use 4×4's, bring our own generator and are pretty versatile but please, tell us so that we can come fully prepared, we don't like being surprised.
Prices for 2022
Shearing
Minimum charge for up to 4 alpaca
£100.00
5-20 alpaca (each)
£20.00
21-40 alpaca (each)
£18.00
Other Services
Travelling (per mile)
£1.00 (one way)
Herding animals (per 15 mins)
£20.00
New for 2021.
Classical MileEnd Priam II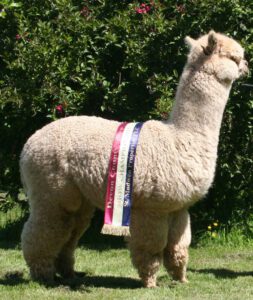 Latest addition to the fawn breeding program. Fabulous genetics bringing soft and dense fleece on a compact frame.
Patou Piri-Piri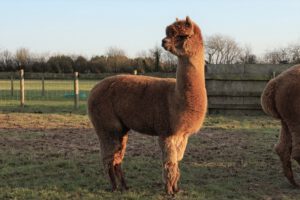 Another addition to bring in more coloured genetics, a young male with great conformation and a fine dense fleece. 
Caton Rebel Yell
Rebel Yell is a dark fawn stud male with a fabulous fleece, showing excellent crimp and brightness. He has some fantastic genetics behind him, Classical Mile End Tulaco Centurion and Golden Gun of Arunvale, both fawn males with plenty of outstanding progeny.
Oak View Emilio
Emilio is a light fawn stud sired by Bozedown Titan, he has a fine,soft handling fleece with plenty of character. His 7th fleece still just over 23 microns with a comfort factor of over 90%. We have some of his progeny on farm